ADJUTANT'S REPORT

Three of our  members,  Ben  Baird,  Jerold  Evans,  and  Ed
Thornton  had  surgery  recently  and  are  out of hospitals
recovering.  Jerold was in his accustomed seat at the Robins
Center  Saturday cheering the Richmond Spiders on to victory
over  George  Washington  University.   We  pray  for  their
continuing progress and hope they'll be back with us soon at
Camp meetings.                                              

Ed, who has been an associate member for several years,  has
chosen  to  make Longstreet his home Camp by transferring to
us.  Also transferring is J.  E.  B.  Stuart, V.  His father
Jeb  IV  and his son Jeb VI have become associate members of
our Camp.  Our cavalry forces should be greatly strengthened
by the addition of three Stuarts to our membership.         

We  have  sent  to  headquarters  the  certified  membership
application of H.  Franklin (Frank) Bahen,  whose  ancestor,
Peter  Seymour  Vial,  was a private in Company A of the 1st
Virginia State Reserves.                                    

Wasn't it great  to  induct  five  members  at  our  January
meeting!  Richard Faglie, Louis Heindl, Kent Kane, Bob Kane,
and Richard Mountcastle took the oath and were sworn  in  by
Commander  Harry  Boyd  and  1st Lieutenant Commander Taylor
Cowardin.    Men   are   considered   members   when   their
applications  are  certified  and sent to headquarters.  The
induction ceremony, an impressive formality, adds dignity to
becoming  a  member.   We  welcome warmly all those who have
become part of the Longstreet Camp.                         

Three members,  Richard  Armstrong,  Tim  Edgell,  and  Bill
Nuckols, decided not to renew their membership.  Richard was
a significant contributor to the growth and success  of  our
Camp.    He  spearheaded  the  Longstreet  drinking  glasses
project and did  valuable  work  on  our  web  site,  which,
unfortunately,  has not been resurrected.  Tim is pursuing a
graduate degree and working at the University  of  Richmond.
Bill  lives  in Fredericksburg and has difficulty driving at
night.  Bill was a faithful  contributor  to  "The  Old  War
Horse." We wish all three well.                             

Longstreet  Camp now has 66 regular members, three associate
members, and one honorary member.  All dues have been mailed
to headquarters and to the Virginia Division.  Dues are sent
to both as they are received to avoid the last  minute  rush
as  the January 31 deadline approaches.  Rosters are sent to
members who have email addresses  from  time  to  time.   If
you'd  like  a copy and don't have email, please let me know
and I'll bring a copy for you to  a  subsequent  meeting  or
mail  one  to  you.  Membership cards have been delivered or
mailed to all members.  If for any reason you didn't receive
yours, please let me know, and I'll get another one to you. 

The  Ukrop's Golden Gift program is now underway.  Last year
we  made   donations   to   two   battlefield   preservation
organizations  and  to  the  Museum  of the Confederacy with
money  received  from  Ukrop's   for   those   members   who
contributed  their  certificates to us.  Please consider the
Camp when you decide what to do with your certificates  this
year.   The  schedule  calls for Ukrop's to mail Golden Gift
certificates to customers in May.                           

Little did I  know  when  writing  about  Eric  Wittenberg's
Trevilian  Station  book  in  last month's adjutant's report
that I'd be traveling to Louisa  County  later  that  month.
Wittenberg,  an  Ohioan,  did  not  pull  any punches in his
comments about the mendacity of Phil Sheridan.   Any  battle
which resulted in a defeat for Sheridan is a great battle. I
heartily recommend Glory Enough for All:  Sheridan's  Second
Raid and the Battle of Trevilian Station to anyone.         

While in Mineral, Louisa County, I had the great pleasure of
meeting retired U.  S.  Air  Force  Colonel  Walbrook  Davis
Swank.  Colonel Swank was a member of Longstreet Camp in the
1980's and prior.  He  has  written  many  books  since  his
retirement  from  the Air Force.  Most are about The War For
Southern Independence.  Colonel Swank recalled fondly former
Longstreet  Camp  members Hobson Goddin, Pete Wev, and Lewis
Mundin.  Longstreet Camp influence  and  connections  extend
far and wide.                                               

				Walter Tucker

---

GENERAL JAMES LONGSTREET CAMP #1247
NEXT MEETING-TUESDAY, FEBRUARY 17, 2004

ROMA'S RESTAURANT 8831 STAPLES MILL RD.
LOCATED ON THE RIGHT IN THE WISTAR SHOPPING CENTER
(JUST PAST THE 2ND STOPLIGHT AFTER THE AMTRAK STATION.)

DINNER- SOCIAL 6:00 PM

BE SURE TO COME AND BRING A PROSPECTIVE MEMBER OR GUEST

---
FEBRUARY PROGRAM

Our speaker will be Colonel Thomas C.  Taylor  of  Stratford
Hall, the home of the Lees of Virginia.                     

Tom  will  tell the story of the remarkable band of patriots
that lived in the house within the span of about a  century:
Thomas  Lee,  Philip Ludwell Lee, Richard Henry Lee, Francis
Lightfoot Lee, "Light Horse Harry" Lee, Robert E.   Lee  and
Henry Lee.                                                  

He will also include the history of Stratford Hall following
the ownership  of  the  Lees  until  the  present  and  will
emphasize  the  stewardship  of  the Robert E.  Lee Memorial
Association.                                                

Come and learn more about this remarkable family  and  their
beautiful home!                                             

---
LONGSTREET'S FIRST CORPS

The following is a cumulative listing of contributors to the
upkeep  of  "The  Old  War  Horse" for the period July, 2003
through the current month.                                  

Ben Baird
Lloyd Brooks
Richard Campbell
Gene Carty
Earl Carwile
Phil Cheatham
Brian Cowardin
Gary Cowardin*
Taylor Cowardin
Lee Crenshaw
Raymond Crews
John Deacon
Jerold Evans
Shirley Ferguson†
David George
David Harris
Pat Hoggar
Jack Kane
Michael Kidd*
Roger Kirby
Frank Marks
Lewis Mills
Joe Moschetti*
John Moschetti*
Preston Nuttall
Ken Parsons
Rufus Sarvay*
Wally Scott
Bill Setzer
John Shumadine
Austin Thomas
Walter Tucker*
John Vial*
Patricia Walton††
David Ware
Jerry Wells§
Harold Whitmore
Hugh Williams
Bobby Williams*

Legend
* - Multiple contributions
† - In Memoriam- Commander "Hef" Ferguson
††- In Memoriam- Commander "Chuck Walton"
§ - Visitor Donation

From July to date, 61% of our members have made  a  donation
to the upkeep and well-being of "The Old War Horse!!" Thanks
to all of you for your help.                                


---



2003- 2004 CAMP OFFICERS
LONGSTREET CAMP #1247

Commander: Harry Boyd                 741-2060
1st. Lt. Cmdr.: Taylor Cowardin       356-9625
2nd Lt. Cmdr.: Michael Kidd	      270-9651
Adjutant/Treasurer: Walter Tucker     360-7247
Quartermaster: R. Preston Nuttall     276-8977
Chaplain: Henry V. Langford           340-8048

---

JANUARY PROGRAM



Commander Harry Boyd presents our
speaker, David Johnson, with a set of
the renowned Longstreet sippin' glasses

David Johnson, a graduate of Henrico High School who studied
history  under the inimitable Ludwell Johnson at William and
Mary before graduating from the T.  C.  Williams Law  School
of  the University of Richmond, spoke about Douglas Southall
Freeman, subject of David's 2002 biography.                 

On November 6, 2003,  Freeman  accompanied  his  Confederate
father  to  a reunion of survivors of General Billy Mahone's
troops who fought at the Battle of the Crater.   He  was  so
moved  that  he  felt  compelled  to write about the Army of
Northern Virginia.  He resolved, "If someone  doesn't  write
the  story of these men, it will be lost forever.  I'm going
to do it."                                                  

Freeman began working for  the  Richmond  Times-Dispatch  in
1906.   In  1907  he  developed  The Calendar of Confederate
Papers from papers held by the Confederate memorial Literary
Society.   In  1915 he edited and published Lee's Dispatches
to Davis.                                                   

Publisher John Stewart Bryan sold the Times-Dispatch in 1914
in  order  to  concentrate on the Richmond News Leader.  Dr.
Freeman went with him and became editor at the age of 28.   

Scribner's requested Freeman to write a one-volume biography
of Robert E.  Lee consisting of 75,000 words.  The work went
on  to  greater   length   and   caused   an   exchange   of
correspondence   between   Freeman  and  his  editor  Edward
Livermore Burlingame, which was referred to as a gentle  tug
of  war.   After Burlingame's death in 1923, Maxwell Perkins
wrote Freeman that  Scribner's  was  thinking  of  a  longer
biography.  Freeman's belief that he couldn't select what to
write until all the appropriate papers had been examined and
his need to walk Lee's battlefields caused the work to go on
for another ten years.  In his writing he wanted to  try  to
understand  the General on the basis of what Lee knew at the
time, without knowing what the ultimate outcome would be. He
completed  the  writing  of  four volumes totaling 1,000,000
words January 19, 1933.  He was awarded the Pulitzer Prize. 

Freeman characterized The War as a fight between old  ideals
of  the  South  and new ideals of the Northeast and Midwest.
Asked to summarize the cause of The War in one word, he said
that  couldn't be done but then said, "Politicians." He felt
The War should be called The War for Southern Independence. 

Dr.  Freeman began radio broadcasts on WRVA in 1926  talking
about  true  Virginia  lore.  He switched to comments on the
news on WRNL in 1937.  With his phobia against wasting time,
he  would  arrive  in the studio (a two-minute walk from his
News Leader office) at 7:59.9 AM  for  his  8:00  broadcast.
Estimates  were  that  his  broadcast  reached  63%  of  the
listening audience.                                         

He wrote a biography of George Washington and was rector  of
the  University  of Richmond.  He lectured military officers
and others.                                                 

He retired from the News Leader in 1949, but popular  demand
kept him on the radio until his death in 1953.              

He  was  a  remarkable  man  whose amazing capacity and work
habits enabled him to achieve enormously, but at a cost  Dr.
Freeman  got  up  before dawn, worked long hours and retired
early each night.  There was almost no time for his son.    

Dr.  Freeman's biographies of Lee and Washington will be  of
benefit  as  long as there's a United States of America.  We
are forever in his debt.                                    

As a postscript to this program, I submit that  we  are  all
indebted  to  David  Johnson for his biography of this great
American man of letters and for his willingness to speak  to
groups about Dr.  Freeman.                                  
                                                      Walter

---
A FINAL REQUEST FROM THE OLD WAR HORSE!
"General, unless he offers us honorable terms, come
back and let us fight it out!"

General James Longstreet to General Lee
as Lee was riding off to see Grant at Appomattox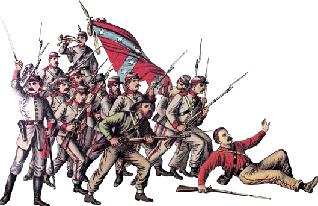 ---
CONFEDERATE HISTORY MONTH ACTION

The Virginia Senate voted to kill  SJR  96,  the  resolution
that  would have designated April as Confederate History and
Heritage Month in Virginia.                                 

It is interesting to note that the vote  was  a  voice  vote
instead of a recorded vote.  One wonders why.               

---
FIVE NEW COMPATRIOTS!!


R. TO L.: 1ST LT. CMNDR. TAYLOR COWARDIN SWEARS IN
RICHARD FAGLIE, RICHARD MOUNTCASTLE, LOUIS HEINDL,
KENT KANE AND ROBERT KANE

Another great night for Longstreet!   Five  new  Compatriots
were sworn in at the January meeting.                       

Our  Camp  is  growing by leaps and bounds with new members,
transferees and Associate Members.  It is really  satisfying
to see this take place.                                     

Both  Hef  and Chuck, our immediate Past Commanders, must be
thrilled to know that we have come so far in  such  a  short
length of time.                                             

---
KENDRICK VISITS CAMP


MICHAEL D. KENDRICK

Michael  Kendrick,  Commander  of  the  2nd   Brigade,   Va.
Division, SCV, paid us a visit at the January meeting.      

Michael  is  also  Virginia  Division  Recruiting  Chairman,
Virginia Division E-mail Network  Coordinator  and  1st  Lt.
Commander of Amelia Minutemen Camp #1999.                   

He  spoke  to  us about meeting the goal of 5,000 members in
the Virginia Division.  This is an attainable goal.         

Reflect for just a minute.                                  

There are 75  camps  in  the  Virginia  Division.   If  each
Compatriot  in each camp makes the effort to recruit one new
member every month, just one, our  Virginia  Division  would
gain 900 new members in one year.                           

Just one new member each...                                 

---
OLD DOMINION VOICE'S WELLS VISITS

Jerry Wells, of the Virginia Division's magazine,  "The  Old
Dominion Voice," also paid us a visit at the last meeting.  

Jerry  is  on  the  new  production  team  that produces the
magazine, along with Joseph Garland,  Michael  Kendrick  and
others..                                                    

Based  on their first issue, December 2003/January 2004, the
team is doing a great job of rejuvenation!!!                

We wish them continuing success.  Their efforts to make  the
"Voice" the best state publication are greatly appreciated. 

Thanks for your hard work from Longstreet Camp!!            

---
RAFFLE TIME!

As most of  you  know,  Longstreet  has  a  raffle  at  each
meeting.   The proceeds go towards deserving projects of the
Camp, such as the History Scholar Award of $300 that we made
last year.                                                  

We  had  three  winners  at the January meeting, since there
were two additional prizes that had  been  donated  for  the
drawing.                                                    

---
UNITS OF THE MONTH

"Cold Mountain," a newly released major motion  picture  set
during  the  final  year  of the War Between the States, has
received exceptionally positive reviews from critics and the
general  public  alike.   Set in Virginia and North Carolina
during the final stages of  the  War,  one  of  the  pivotal
scenes   takes   place  during  what  has  become  known  as
Petersburg's "Battle of the Crater." The Siege of Petersburg
is  often  viewed as one event but it is in fact the longest
campaign of the War, one in which Robert E.  Lee conducted a
masterful  defense  of  "The  Cockade  City", prolonging the
survival of Richmond and  ultimately  the  survival  of  the
entire  Confederacy for an additional nine months.  No fewer
than 13 major engagements and an uncounted number of  lesser
encounters  took  place  during  the  period,  each of great
importance in and of themselves.                            

The success of "Cold Mountain" has generated new interest in
the  War  and  the  events  which  took  place in and around
Petersburg; events in  which  ancestors  of  our  membership
played  predominant  roles.   So it is with great pride that
each  of  the  units  represented  in  the   General   James
Longstreet  Camp  which  served so nobly during the Siege of
Petersburg is recognized.  Cold Mountain web site


VIRGINIA INFANTRY

1ST VA-FIVE FORKS

3RD VA-FIVE FORKS

5TH VA-HATCHER'S RUN
	FORT STEDMAN

6TH VA-THE CRATER WELDON R.R.
	REAM'S STATION

7TH VA-FIVE FORKS

8TH VA-FIVE FORKS

11TH VA-FIVE FORKS

12TH VA-THE CRATER
	WELDON R.R.
	REAM'S STATION

13TH VA-FORT STEDMAN

14TH VA-FIVE FORKS

15TH VA-FIVE FORKS

16TH VA-THE CRATER
	WELDON R.R.
	REAM'S STATION

18TH VA-FIVE FORKS

19TH VA-FIVE FORKS

21ST VA-HATCHER'S RUN
	FORT STEDMAN

23RD VA-FIVE FORKS

24TH VA-FIVE FORKS

26TH VA-THE DIMMOCK LINE
	THE CRATER FIVE FORKS

28TH VA-WHITE OAK ROAD
	FIVE FORKS

30TH VA-FIVE FORKS

32ND VA-FIVE FORKS

34TH VA-THE DIMMOCK LINE
	THE CRATER FIVE FORKS

38TH VA- FIVE FORKS

41ST VA-THE CRATER

42ND VA-FORT STEDMAN

44TH VA-FORT STEDMAN

46TH VA-RIVE'S FARM
	THE DIMMOCK LINE
	THE CRATER
	FIVE FORKS

47TH VA-WELDON R.R.

53RD VA-FIVE FORKS

55TH VA-WELDON R.R.
	PEEBLES' FARM

56TH VA-FIVE FORKS

57TH VA-FIVE FORKS

61ST VA-JERUSALEM PLANK ROAD
	THE CRATER WELDON R.R.
	REAM'S STATION
	BURGESS' MILL
	HATCHER'S RUN


NORTH CAROLINA INFANTRY

1ST NC-HATCHER'S RUN
	FORT STEDMAN

14TH NC-FORT STEDMAN

16TH NC-THE CRATER
	WELDON R.R.
	REAM'S STATION
	PEEBLES' FARM
	HATCHER'S RUN

17TH NC-THE DIMMOCK LINE
	BURGESS' MILL

33RD NC-REAM'S STATION
	PEEBLES' FARM
	HATCHER'S RUN
	FORT STEDMAN

44TH NC-WELDON R.R.
	REAM'S STATION
	PEEBLES' FARM
	BURGESS' MILL
	HATCHER'S RUN


SOUTH CAROLINA INFANTRY

4TH SC-THE DIMMOCK LINE


GEORGIA INFANTRY

17TH GA-THE DIMMOCK LINE


MISSISSIPPI INFANTRY

2ND MISS-WELDON R.R.


TENNESSEE INFANTRY

7TH TENN-WELDON R.R.
	PEEBLE'S FARM


VIRGINIA ARTILLERY

HALIFAX LIGHT ARTILLERY
RIVE'S FARM
THE DIMMOCK LINE
OTHER

COLEMAN'S HEAVY ARTILLERY BATTERY

POWHATAN ARTILLERY BATTALION


GEORGIA ARITLLERY

11TH GA ARTILLERY BATTERY
	THE CRATER


VIRGINIA CAVALRY

1ST VA-FIVE FORKS

2ND VA-FIVE FORKS

3RD VA-FIVE FORKS

4TH VA-FIVE FORKS

5TH VA-FIVE FORKS

6TH VA-FIVE FORKS

13TH VA-REAM'S STATION
	FIVE FORKS

17TH VA-FIVE FORKS

24TH VA-THE DIMMOCK LINE


SOUTH CAROLINA CAVALRY

4TH SC-REAM'S STATION
	PEEBLES' FARM
	BURGESS' MILL

		     Harry

---